Republic Bank / AAdvantage® Mastercard


Miles at your leisure, travel at your pleasure.
Apply for the Republic Bank / AAdvantage® Mastercard and earn miles faster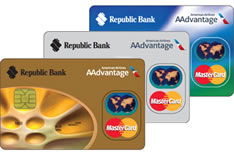 1 AAdvantage® mile for every US$1.00/TT$6.50 you spend on purchases worldwide1
Access to exclusive promotions and special bonus mile offers as a valuable cardholder2
Plus added benefits such as MasterTravel Accident Insurance, Mastercard Global Service®, exclusive car rental discounts
The AAdvantage® program does not have a mileage earning limit
Use your card regularly. It is the best way to keep your AAdvantage® account active, so your miles may never expire 3
Co-branded credit cardholders and AAdvantage® status members enjoy exclusive rates when redeeming miles on car rentals and hotel stays4
Terms and conditions
This content can be expanded
Terms and conditions may apply.
1 Or its equivalent in the country's local currency where the purchase is made.
2 All travel awards are subject to inventory availability and changes without notice.
3 American Airlines AAdvantage® miles will not expire provided that once every 24 months you earn or redeem miles on American Airlines, an affiliated carrier, or with an American Airlines AAdvantage® participant.
4 Certain members may receive preferential pricing. Pricing is subject to change without notice. For complete details and to redeem miles, visit: useaamiles.com/carhotel.
These cards are only available to residents of Trinidad & Tobago.